Crowdfunding, the practice of funding a project or organisation by raising monetary contributions from a large number of people, has been growing substantially in recent years. Thousands of people and organisations across Europe have raised funding through crowdfunding platforms, including cultural and creative projects. 
How does crowdfunding work for the cultural and creative sector? What type of finance can you raise through crowdfunding? How do you select the right platforms? What are the do's and don'ts when setting up a crowdfunding campaign? Can crowdfunding be matched with public grants or private sponsorship? Crowdfunding4Culture aims to help you find answers to all these questions and many more.
Who is this website for?
Crowdfunding4Culture is aimed at cultural and creative professionals (freelancers as well as organisations), crowdfunding platforms, backers, as well as local, regional and European policy makers.
Crowdfunding4Culture has the ambition to become a European wide information hub for anyone who wants to learn more about using crowdfunding in the cultural and creative sectors, the different models and platforms, lessons to learn from (un)successful projects and tips and tricks on crowdfunding campaigns.
What information can I find here?
Work in progress
Crowdfunding4Culture is part of a pilot project "Crowdfunding for the cultural and creative sectors: kick-starting the cultural economy", commissioned by the European Commission to IDEA Consult and its consortium partners ECN and Ecorys.
The pilot project is divided into four different activities: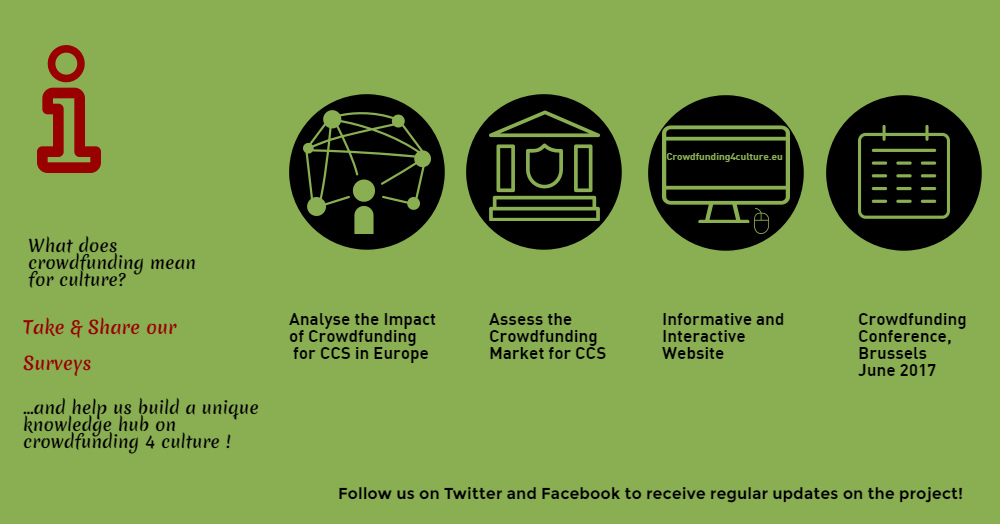 In the coming months Crowdfunding4Culture will feed on insights from project owners, supporters, platforms and policy makers as well as from interesting practices and trends to become a growing repository of knowledge and information on crowdfunding for culture.
Follow us on Twitter and Facebook to receive regular updates on the project!